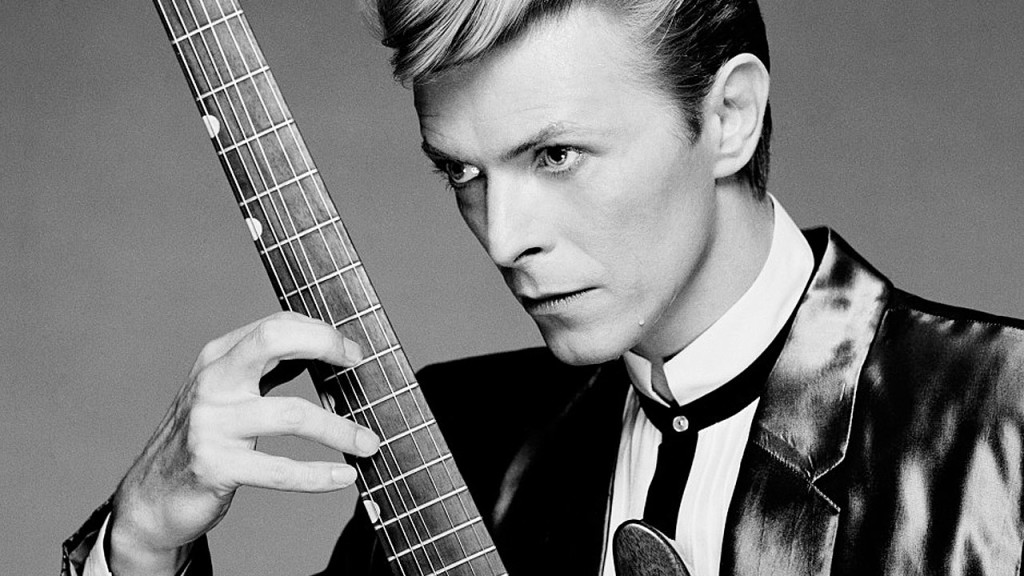 David Bowie, unarguably fashion's king of self-invention, who changed the definition of what it meant to be a popular rock star, has passed away at 69.
A statement on the musician's Facebook page read: "January 10, 2016 David Bowie died peacefully today surrounded by his family after a courageous 18 month battle with cancer. While many of you will share in this loss, we ask that you respect the family's privacy during their time of grief."  The news comes just days after the music icon and musician released his latest album Blackstar and after having announced plans to retire from the stage last October.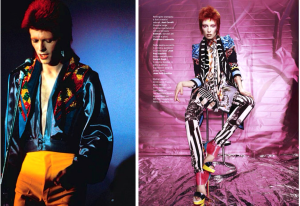 From his emergence as a monochrome teen mod in the 1960s, to the glitter-soaked, gender-bending explosion as Ziggy Stardust in the 1970s, and the new romanticism, neo-classicism and Berlin-channelling looks that followed, David Bowie changed his style more dramatically than any other musician in history inspiring fashion designer from Alexander McQueen to Hedi Slimane, Jean Paul Gaultier, Dries van Noten, Walter van Beirendonck, Tommy Hilfiger, Jean-Charles de Castelbajac and Vanessa Seward over the span of decades.
"David Bowie is cult, an absolute rock star," Gaultier said. "He was relevant across periods, influenced them, even created them musically, intellectually and humanly. Personally, I was influenced by his creativity, his extravagance, his sense of fashion, allure, elegance and play on gender."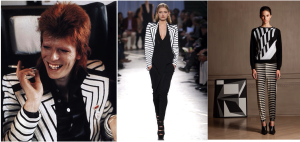 Van Beirendonck recalled his summer 2016, "electric eye-themed" collection was inspired by Bowie's song "Moonage Daydream," and its silhouette gave a nod to the singer's wide pants and huge hats from the Seventies. "I am a huge Bowie fan, and it was a big shock to wake up today with this terrible news," said van Beirendonck. "Bowie meant a lot to me," van Beirendonck continued. "He gave me power and strength during my teens. He made my view on the world wider, inspired me to be a fashion designer. He gave me beauty and joy [with his] fabulous music and concerts."
For Bowie clothes were a way of projecting self-expression, a powerful tool in communicating individuality at its most extreme, glittering and creative and his transformations brought about seismic cultural shifts: Designer Clare Waight Keller cited Bowie as an inspiration for her pre-fall 2015 collection for Chloé, which played with androgyny and the feminine-masculine divide and Acne Studios creative director Jonny Johansson told Bowie played a big part in his life and this is the reason why he told is not afraid of masculinity or femininity.
Sexually ambiguous, but desirable to both men and women, his Ziggy Stardust persona is still one of the most enduring and iconic images of popular culture and has been replicated countlessly since, including :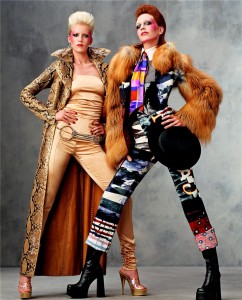 Vogue US, 2001: Hannelore Knuts in fashion editorial Rock the House, photographed by Steven Meisel.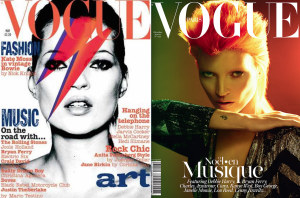 Left: Kate Moss portraying David Bowie's Aladdin Sane for Vogue UK May 2003 cover issue photographed by Nick Knight; right: Kate Moss as Ziggy Stardust for Vogue Paris December 2011/January 2012 photographed by Alas & Piggott.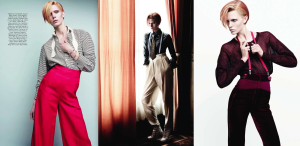 David Sims takes the icon's androgynous look to the pages of Vogue Paris in October 2010 issue and transforms Iselin Steiro in the process. Emmanuelle Alt selects the perfect blend of menswear inspired pieces to create a look the merges Bowie's Aladdin Sane and Thin White Duke eras into the perfect mix and with the final touch of crimson hair Iselin truly looks just like him.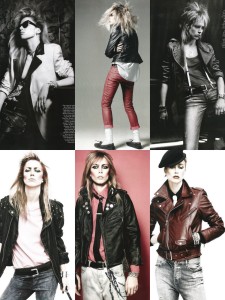 Raquel Zimmermann as David Bowie in fashion editorial Girl Meets Boy shot by David Sims for  Vogue Paris June/July 2010.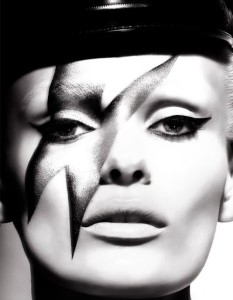 Edita Vilkeviciute by Camilla Akrans for Numero #123 May 2011: Bowie Inspiration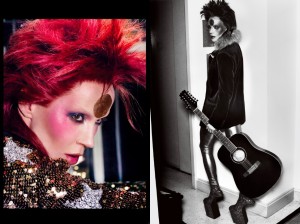 Daphne Guinness as David Bowie for German Vogue, January 2013 issue. Photo by Brian Adams
A pioneer video artist, David Bowie appeared in a number of films including 1983's The Hunger with Catherine Deneuve and Susan Sarandon (long before vampires were trendy), as well as Merry Christmas Mr. Lawrence the same year and 1986's Labyrinth. In Julian Schnabel's 1996 pic Basquiat, he played Andy Warhol – a fellow iconoclast who he both knew and had sung about in the early 1970s. Additionally, while pulling back from music after some health issues in the later 1990s, he played Nikola Tesla in 2006′ The Prestige, directed by Christopher Nolan and co-starring Hugh Jackman and Christian Bale. Bowie took a turn on Broadway, playing  John Merrick, the title role in The Elephant Man in 1980, among other on-stage roles. Frequently included on movie and TV soundtracks, his "Starman" tune is featured in the Golden Globe winning film The Martian directed by Ridley Scott.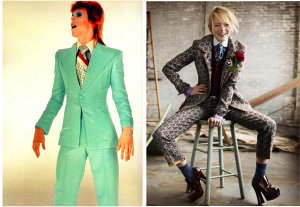 Bowie is the subject of "David Bowie Is" touring exhibition currently on at the Groninger Museum in Holland devoted to his stage style and music career.  First opened in London in Spring 2013 at the Victoria and Albert Museum and the blockbuster retrospective has already visited cities including Paris, Chicago, Melbourne, Berlin, Toronto and Sao Paulo tracing the signer's career from his beginnings in Brixton, south London, to superstardom, delving into his creative process with a show of costumes, sketches, song lyrics, notes, storyboards, films and photographs.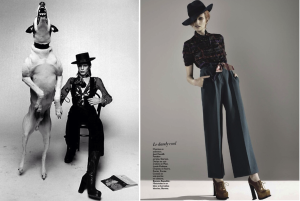 David Bowie will always be a king, so "Let's dance", "…Put on your red shoes and …"
…Fashion! Turn to the left     Fashion! Turn to the right…
Oooh, fashion!