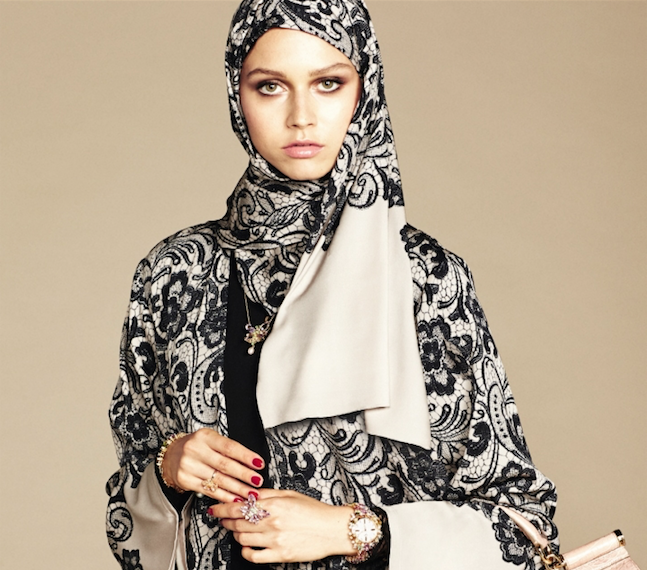 Dolce & Gabbana has unveiled its first Hijab and Abaya Collection.
Arabia is at the heart of many fashion movements of late so it was no surprise when Dolce & Gabbana focus in on the Middle Eastern market with the debut of their Abaya Collection.
Aligned with "Modest Fashion" trend, the Abaya Collection, which debuted over the weekend though Style.com/Arabia, and shared also on Stefano Gabbana Instagram account using the hashtag #dgabaya, features long, airy abaya cloaks mostly in black and a sandy beige, on a single model, whose hair is covered with a hijab. The garments are all beautifully embellished with touches that recall the brand's Italian heritage – black lace trim, jewel-encrusted lemon, polka dots and rose prints – and are styled alongside the label's cocktail jewelry, oversize sunglasses, and patterned bags as they did in the label's spring-summer 2016 runway collection.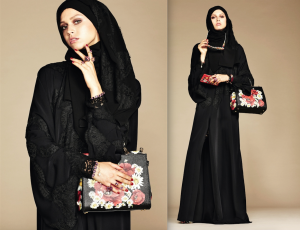 According to a press release, the new Dolce & Gabbana Abaya Collection is a reverie amidst the desert dunes and skies of the Middle East: an enchanting visual story about the grace and beauty of the marvelous women of Arabia." To Muslim women with a taste for luxury fashion, this collection is an exciting development.
"Globally, the Muslim population is a youthful and growing demographic," Reina Lewis, professor of cultural studies at London College of Fashion UAL, told Fortune. "This makes Muslims a very important consumer segment for anything."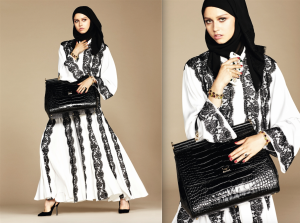 There are also serious style enthusiasts among young Muslim consumers, both in the Middle East and in the west. Muslim style bloggers like Amirah Aulaqi and Saufeeya Goodson use their web presences to show off their own creative style and help other women see that modesty and trendiness can indeed go together.
However, this is not the first time the brand has released collections targeting specific regions. In October, Dolce & Gabbana released a collection inspired by Moscow in connection with a new boutique opening. The brand also released one-off collections for Japanese and Chinese shoppers in early 2015. The benefits of those decisions are still seen today, so why aren't more Western houses creating collections for the Middle Eastern market?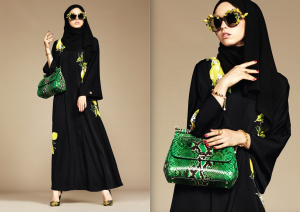 The Italian fashion house joins a growing list of labels courting the increasingly lucrative Muslim market. According to a recent Thomson Reuters report, Muslim shoppers spent $266 billion on clothing and footwear in 2013, and are expected to spend $484 billion by 2019.
Recently, Tommy Hilfiger, DKNY and fast-fashion retailer Mango have released capsule lines to coincide with Ramadan, and luxury e-retailers Net-a-Porter and Moda Operandi have started curating merchandise for Ramadan. And similarly last October, H&M made headlines for its ad campaign featuring Muslim model Mariah Idrissi who wears the hijab.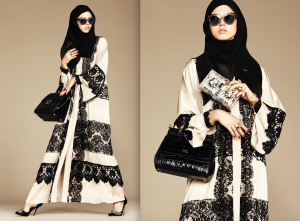 The Abaya Collection by Dolce & Gabbana went on sale this month, and is available at all of the brand's boutiques in the Middle East, as well as select stores in Paris, London, Milan and Munich.
Here below a sneak peek at the Dolce & Gabbana Abaya Collection: