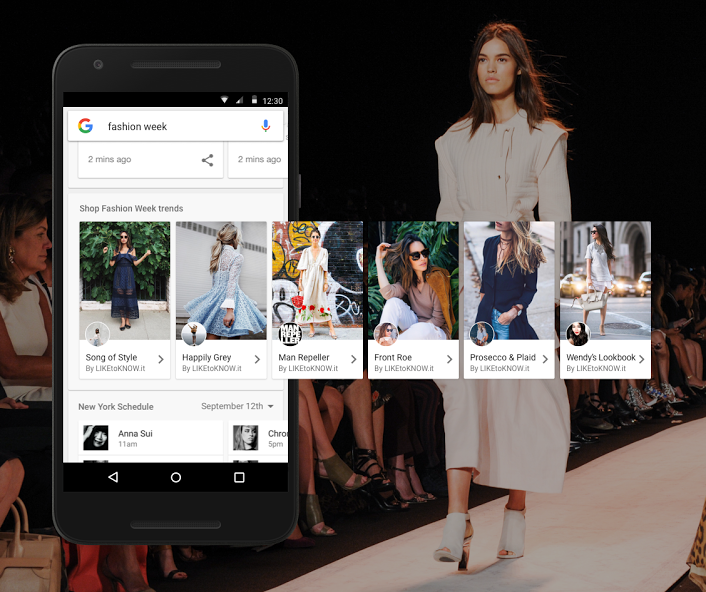 Google Wants You to "Shop the Look" Directly From Its Search Engine
During NYFW Google announched its Shop The Look initiatives, which enables people to explore the world of fashion and shop products directly from images on Google.com.
How does Shop The Look work?
Google is sourcing content and the links to buy clothes are featured in the content from LIKEtoKNOW.it, a company that lets fashion bloggers make money from their social posts. They do this by helping influencers send followers an affiliate link to buy the products featured in their social posts. For example, if I "like" a picture of an outfit on Instagram the service will email me links to buy all of the pieces of clothing in the photo.
The new program will allow users to search Google for a specific outfit, like "cocktail dress", and receive images from social influencers that match that outfit description right within the results page. Then once users tap on one of those images it will pull up a gallery with each item of clothing featured in the picture, as well as a link to purchase it.
Google is integrating Shop the Look with its Shopping campaign ad product, meaning retailers can create an ad for an article of clothing to potentially appear in these results.
This is a big move for Google (as they could potentially steal some search traffic away from Instagram), but it's also a big deal for fashion influences using platforms like LIKEtoKNOW.it to make a living. By including their content and affiliate links in search results, they have the opportunity to have their content seen by a lot more people.