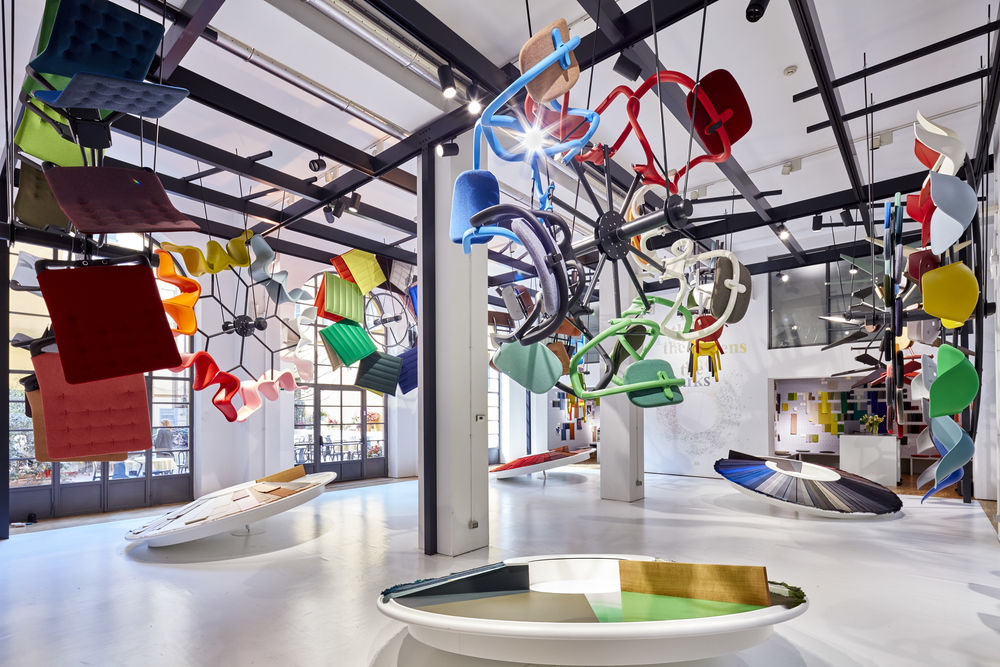 Milan Design Week has attracted a creative community of participants from both the interior space and other design-centric categories, including apparel and jewelry.
Now in its 55th year, Milan Design Week has grown into a weeklong celebration of creative design, with countless satellite events in and around Milan through artistic installations, and some 30,000 new pieces introduced and shared on social media providing brands a platform for creative storytelling.
"Brands who intend to be seen or known as innovative and collaborative often do so by honoring good design and the artisans, creating a strategic advantage with their client base who align with this attribute," said Rebecca Miller, CEO of  Miller & Company, New York. "By maintaining a presence in Milan during Milan Design Week where 400,000 visitors from 160 countries come to discover what is new in the world of design from furnishings, art, fashion to food they have the opportunity to enjoy unprecedented exposure to buyers, enthusiasts and the press.
"Collaborations are in full gear connecting experiences with all of the senses, often reimagining iconic shapes in new mediums, taking what may have traditionally been interior products for body and home and scaling them in various mediums to be enjoyed outdoors renewing the sense of tradition with innovation," Rebecca Miller said.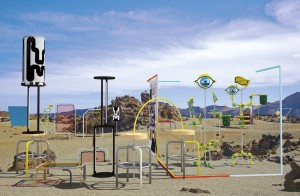 Courtesy of Dior Instagram Account
Dior is celebrating the relationship between M/M and its menswear Creative Director Kris Van Assche, who has tapped the duo to design the sets for Dior Homme runway shows. Two new exclusive installations, including Spring 2014's primary colored rectangular structures and the high stools of Spring 2015 were on display at Milan's Plusdesign gallery from April 12-15. #DiorHomme.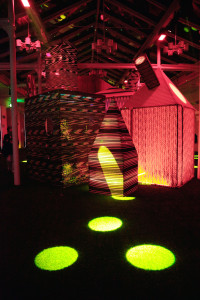 Spazio Missoni in Via Solferino presents #Knitown, a surreal and abstract landscape built with geometric solids creating a very original skyline "dressed" with the typical pattern by Missoni. Conceived by artist Aldo Lanzini and creative directed by Angela Missoni, the installation hosted live performances proving a magnet for Twitter and Instagram.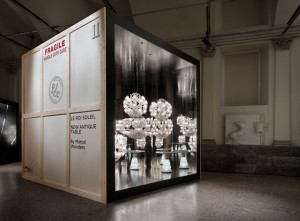 Le Roi Soleil spherical chandelier and New Antique side table by Marcel Wanders for Baccarat.
At Fine Arts Academy of Brera, French crystal company Baccarat hosted an exhibit called "Lumières: Out of the Box", in collaboration with three renowned artists: designer Marcel Wanders, lighting designer Hans van Bentem and artist Arik Levy. The collection contains a number of firsts for the brand, including its first spherical chandelier, the first almost 8-foot vase and its first time using precious stones in a lighting design. Each piece of lighting from the new collection is presented inside a colossal wooden box. These timbered containers are larger versions of those used to carry Baccarat chandeliers to global destinations throughout its 250 years.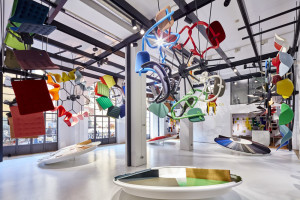 During Milan Design Week, Vitra, which produces furniture, moved into a temporary location as part of the Fuorisalone events in Milan's city centre: CasaVitra, situated near Corso Como, translated a 10-year research project into a vibrant installation called 'Colour Machine',  dedicated to the Vitra Colour & Material Library. The long-term project initiated in collaboration with the Dutch designer Hella Jongerius studied the properties and possibilities of the colours, textures, finishes and materials in the company's product portfolio.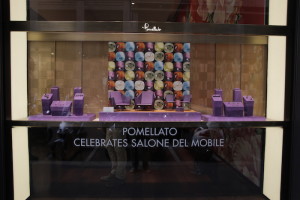 At its boutique, Pomellato staged a window display commissioned from by Serbian artist Uros Mihic, which depicted an interior scene with miniature chairs through the medium of paper.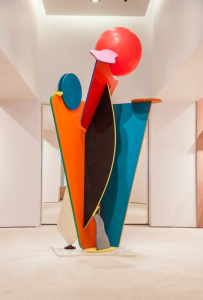 Valextra debuted  "Inside Out", its collaborative project with artist Lorenzo Vitturi displaying from April 12th to 17th at the historic Milanese boutique in via Manzoni 3 (which was redesigned by Belgian architect Bernard Dubois). Vitturi juxtaposed the principles of decomposition and re-composition by mixing template scraps with diverse objects from his personal archives keeping true to Valextra's signature dye cuts. Each piece was then assembled using organic and synthetic materials such as plexiglas drenched in bright pigments.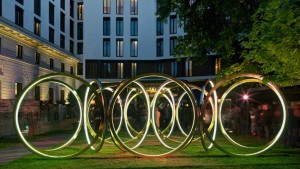 In celebration of Milan Design Week 2016,
Bulgari
have recreated its iconic B.zero1 collection on a mega-scale installation. In collaboration with NaNA Architecture studio, the gardens of Milan's Bulgari Hotel have been overtaken by 18 three metre golden rings, linked to form a triangle.
E-tailer Yoox along with Fondazione Cologni del Mestieri and Living launch "Doppia Firma", an extraordinary project which pays tribute to the Italian traditions of artisanal craftsmanship and innovative design by pairing sixteen designers with sixteen craftspeople, creating a dialogue between the two interwoven fields through the production of 16 masterpieces. The result of these collaborations are on display at the Veneranda Biblioteca Ambrosiana, and project sponsor Yoox.com is featuring the creations on its
Web site
.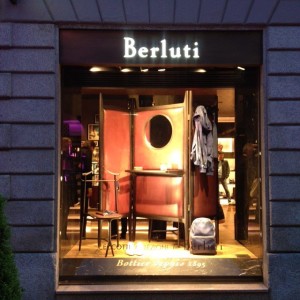 In the face of the novelty and spectacle of the Salone del Mobile, also storied shoemaker Berluti partnered with wooden furniture brand Ceccotti Collezioni to create  a series of unique pieces, tailored for the modern gentleman. Together, the Paraventi, or folding screen, and valet evoke a certain old-world charm, reimagined in the Parisian label's signature Venezia leather in one of four colors.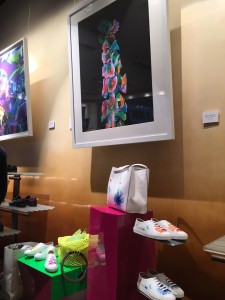 Fratelli Rossetti  bridged fashion and design presenting "Walking Light," a project by Francesca De Giorgi and Alessandro Poli, featuring the brand's limited edition collection of sneakers and Servomuto light and lampshades. The work of leading fashion and art photographer Torkil Gudnason's electric floral photo-illustrations decorated the walls next to the boutique's limited edition line of similarly decorated, hand-painted sneakers. The windows represented both of the brands' commitment to traditional craftsmanship and contemporary design.
"Furiosalone is the most prestigious and important series of events linked to the Milan Furniture Fair and the design world," Ms. Miller said. "Participation confirms and signals to the global market and consumer base a brand's understanding and importance for good design, the artisans who create beauty, the desires of their target audience and the need to remain an interesting and viable brand.
Brands have the opportunity to connect all the senses to an experience, test new concepts, evolve the pop-up store concepts, redefine and refine their brick and mortar experiences to align with their e-commerce business – in total, where innovation becomes reality.