MSGM creative director Massimo Giorgetti announced
"Put back your phone and enjoy the show"
While Tommy Hilfiger created an exclusive space for Instagram content creators hosting New York Fashion Week's first ever InstaPit, MSGM creative director Massimo Giorgetti will ask press and buyers attending his show on February 28 during Milan Fashion Week  to not post images on social networks until the collection will hit stores.
So in the ever-changing fashion world and at a time where designers are critiquing the traditional fashion show format, MSGM creative director Massimo Giorgetti is going his own way. The message is quite clear starting from the invite the brand is about to send out for the forthcoming fashion show: "Put back your phone and enjoy the show," says the invite.
"I think it's the right moment to take a step back from overexposure. It's the moment to support more retailers, online stores and print publications." Giorgetti said to WWD.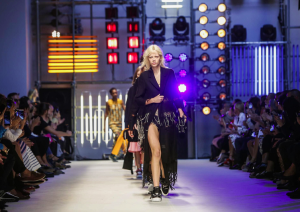 While this decision might not be permanent, it shows that more and more designers are questioning the fashion show schedule and the role of social media on its consumers. "It's been hard to make this decision but I really don't understand anymore how social media are actually influencing this business. I think that by posting all those images with fittings, castings, etc. — which for us are familiar things, — we are really making feel customers confused. "  MSGM creative director explained. "If everything is out there immediately, people lose interest and everything looks so old in a second."
There's no bias against social networks: the Company is just trying to clarify the matter. The customer is now disoriented and subject to too many different messages. With this initiative they would like the customer to discover the collection when it's ready-to-buy in stores and "In addition, I think that asking press and buyers to not post from the show, they might watch the clothes with their eyes not through a screen, which is something good," Giorgetti said.
Will MSGM creative director convince his audience that observe a real dress is better than look at the same dress that got 1000 likes on Instagram?